Compare MaidPro Franchise and Two Maids Franchise, including costs, services, ROI, and more with our complete guide. See for yourself.
The Appeal of Residential Cleaning Franchises
When budding entrepreneurs set out to buy their first franchise, many look for businesses with low start-up costs that provide a service that's in high demand. One type of franchise that meets these requirements is a residential cleaning franchise.
Maid service franchises are relatively inexpensive to start, and business is booming. According to IBISWorld, as of January 2023, there were 1,530 residential cleaning companies franchising in the United States, and that number is expected to grow more than 3% by the end of the year.
What to Look for When Choosing a Residential Cleaning Franchise
So, while a residential cleaning franchise can be a great investment, how can you decide which one is right for you? It's important to do your due diligence and carefully evaluate each cleaning service franchise option to find the best fit for your skills, goals, and budget.
Here are the top four things you should consider:
Brand reputationDo consumers hold the company in high esteem? Do they receive a lot of repeat business? These factors bode well for the strength of the brand. Alternatively: Have there been complaints to the Better Business Bureau? Is the company receiving a lot of critical press? Reviews can either boost or hinder a brand's reputation.
Business model and systemEvaluate the franchise's business model, including its operational systems, marketing strategies, and training programs. Look for a franchise with a proven track record of success and a strong support system for its franchisees. Talk with other franchisees about their experiences with the company.
Growth Potential: Consider the potential for growth and expansion of the franchise, including adding new services or opening additional locations. Evaluate whether the franchise offers opportunities for growth and if they align with your business goals.
Legal Obligations and RestrictionsUnderstand the legal obligations and restrictions of owning the franchise, including investment requirements, contractual agreements, intellectual property rights, and non-compete clauses. Consult with a lawyer to ensure you understand and agree to the terms of the franchise agreement.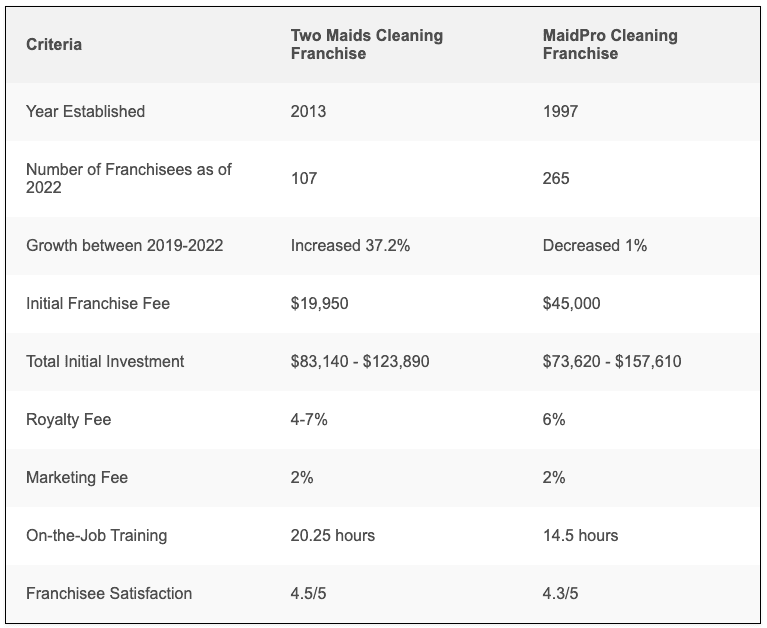 *Source: Entrepreneur.com
Considering this criteria, let's compare two of the top residential cleaning franchises: MaidPro and Two Maids.
First, let's look at the financials. The maximum total investment for a Two Maids franchisee is about $30,000 less than the MaidPro franchise cost at their highest points. The Two Maids franchise fee alone is less than half that of MaidPro. The minimum royalty fees are also lower, meaning Two Maids franchisees typically pay a smaller percentage of their income to the franchisor each month.
While both Two Maids and Maid Pro franchises offer on-the-job-training, Two Maids offers a more comprehensive program, ensuring that franchisees and their employees are well-versed in the systems they use to clean homes thoroughly and efficiently.
While MaidPro has been franchising for 26 years, their numbers have decreased in recent years. Meanwhile, Two Maids, a younger franchise, has seen their numbers steadily increase since the beginning.
What Makes Two Maids Stand Out
Two Maids believes a house is either clean, or it's not. The cleaners either meet customers' expectations, or they don't. That's why we've developed our Pay for Performance system.
After each home cleaning, the customer is asked to provide a simple 1-10 rating based on their level of satisfaction.
The happier the customer, the more money our cleaning professionals earn. This system motivates the cleaners to do the best job possible and guarantees the client will be 100% satisfied.
Take the First Step with Two Maids Today
In a saturated residential cleaning market, Two Maids stands apart as a low-cost, turn-key franchise with a stellar reputation, aggressive marketing tactics, and a proven business model. Most Two Maids franchisees typically have their business up and running in three months or less, backed by our comprehensive training and ongoing support.
Our dedicated franchise advisors are available to answer any questions you may have about the franchise process, or the cleaning industry in general, so you can decide if owning a Two Maids franchise is right for you. To learn more, reach out today.