The residential cleaning industry has always been a beacon for entrepreneurs seeking a stable and profitable venture. As lifestyles become busier and homeowners prioritize leisure over chores, the demand for professional cleaning services has surged. According to projections reported by Business Journal Daily , the U.S. Department of Commerce expects that by the end of 2024, 80% of all American households will employ some form of house cleaning service. And, according to IBISWorld, measured by revenue, the residential cleaning services industry was worth $12.5 billion in 2022. That's a growth of 4.8% from the previous year.
Amidst this backdrop, franchises have emerged as a popular route for many, offering the allure of a ready-made business model, brand recognition, and a support system. Two names that frequently surface in this crowded marketplace are Molly Maid and Two Maids.
Both Two Maids and Molly Maid have established themselves as leaders in the residential cleaning industry, offering top-notch services that cater to a broad clientele. Both franchises prioritize customer satisfaction, employing trained professionals who adhere to rigorous standards. Their shared emphasis on professionalism, reliability, and trustworthiness has earned them a loyal customer base and a reputation for excellence in the cleaning industry. As potential franchise opportunities, they both present robust business models, comprehensive training programs, and ongoing support, making them attractive options for entrepreneurs looking to venture into the residential cleaning sector.
But before you decide which whether to invest in a Two Maids or Molly Maid, let's look at some of the differences.
A Side-By-Side Comparison
The following chart highlights some of the differences between a Two Maids franchise and a Molly Maid franchise.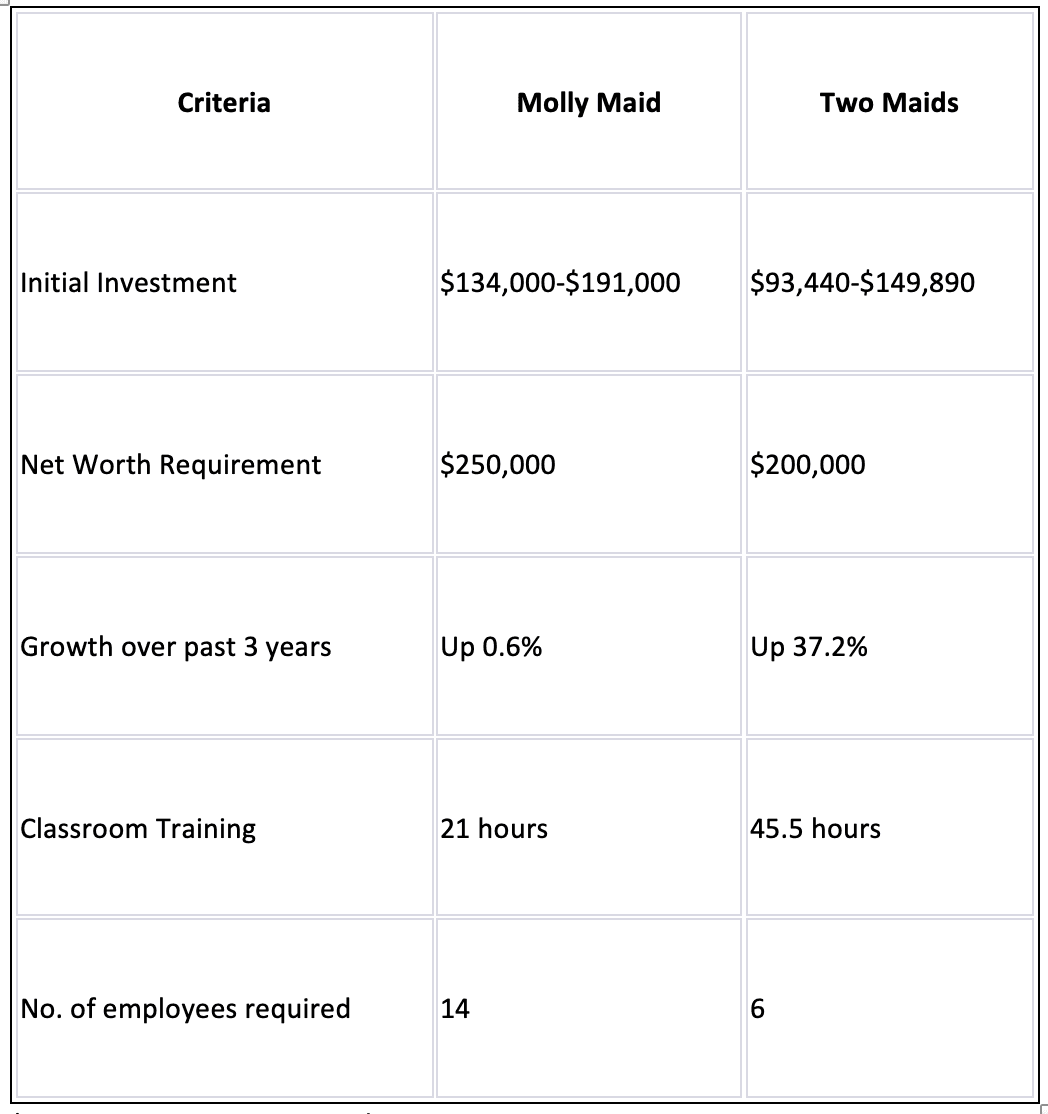 *Source: Entrepreneur Franchise 500
Financial Accessibility
When it comes to the initial investment, Two Maids offers a more affordable range starting at $93,440, compared to the Molly Maid franchise cost of $134,000. Two Maids also offers up to $32,000 in-house financing to qualified candidates. This lower entry point makes Two Maids a more accessible option for many potential franchisees. Additionally, the net worth requirement for Two Maids is $50,000 less than that of Molly Maid, further emphasizing its financial accessibility.
Growth and Momentum
One of the most striking differences between the two franchises is their growth over the past three years. While Molly Maid has seen a modest growth of 0.6%, Two Maids has experienced a staggering growth of 37.2%. This significant growth rate indicates the momentum and potential of Two Maids in the residential cleaning industry.
Training and Staffing
Training is crucial for any franchisee. As a Molly Maid franchisee, you are given 21 hours of classroom training. Two Maids provides more than twice as much time in the classroom—a total of 45.5 hours. During that time, new franchisees are trained in our proven, documented systems for cleaning homes. You will be given the Two Maids operational manual that includes step-by-step procedures for handling every task. In this way, you will learn how to complete all your jobs in the most efficient way, letting you move on to the next job as soon as possible.
Furthermore, the staffing requirement for Two Maids stands out. Two Maids franchisees typically have 6 cleaning crew employees compared to Molly Maid's fourteen, Two Maids franchisees can start their operations with a leaner team. This not only reduces initial staffing costs but also simplifies management and operations. But just because you start small, it doesn't mean you have to stay small. The Two Maids model is scalable, allowing you to grow your business at your own pace.
What Makes Two Maids Really Stand Out
Beyond the numbers, what truly sets Two Maids apart is its innovative approach to customer satisfaction. Their unique "Pay for Performance" system is a testament to their commitment to excellence. After each cleaning job, customers rate the service they received. The compensation the cleaning team receives is directly tied to these ratings. This model not only motivates the cleaning staff to consistently deliver top-notch service but also ensures that customers always receive the best possible cleaning experience. Such a model is a win-win, fostering loyalty among both employees and customers.
Two Maids franchise owners also benefit from our commitment to quality, proven systems, supportive leaders, and a close community of fellow franchise owners. Everything we do – from cleaning homes to mentoring each member of our workforce – is designed to empower people and enrich lives. This approach, and our heart to serve, is what truly separates Two Maids from every other home cleaning company in the industry.
The Clear Choice: Two Maids
While both Molly Maid and Two Maids have their unique offerings, the advantages of Two Maids are clear. From a more affordable investment and net worth requirement to impressive growth and a comprehensive training program, Two Maids emerges as a compelling choice for those looking to venture into the residential cleaning franchise space. We have franchise locations available across the U.S., talk to a Two Maids Franchise Advisor about available territories near you.
Ready to embark on a promising entrepreneurial journey? Explore the opportunities with Two Maids. Contact us today and let's discuss how you can become a part of our rapidly expanding franchise family.